Blindsight
Readings
[required] Ramachandran on blindsight
See also NewsBlindsight
de Gelder, B., Tamietto, M., van Boxtel, G., Goebel, R. Sahraie, A., van den Stock, J., Steinen, B.M.C., Weiskrantz, L. & Pegna, A. (2008). Intact navigation skills after bilateral loss of striate cortex. Current Biology, 18, 1128-1129.
Neurophysiology
http://4.bp.blogspot.com/_PPCTJS9Zu7A/SX42CDBDQWI/AAAAAAAAAAc/8v19cxUSlH0/s1600-h/visdefects.gif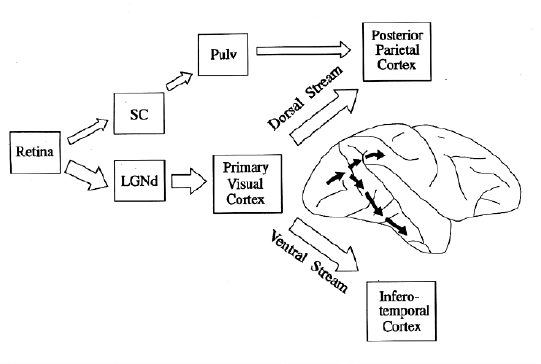 Blingsight = a phenomenon in which people without conscious visual perception in a certain area of their visual field can still demonstrate some response to visual stimuli in that particular field.
A kind of 'cortical' blindness - patients claim that they are blind, and they seem to loss all visual functions, but their eyes and optic nerves are still normal. Blindness is due to brain damage.
Documented by Poppel, Held, and Frost (1973), coined by Weiskrantz.
Patient DB can (under force choice)

point to the location of stimulus
detect movement
discriminate the orientation of lines and gratings
discriminate shapes such as X's and O's.

Others

affective blindsight (See Tamietto, M. & deGelder, B. (2008)) - successful forced-choice discrimination of positive versus negative facial expressions
Intact navigation in patient TN.
Questions
Neurophysiology - second pathway to the dorsal stream that bypasses V1
Consciousness and access
The function of consciousness