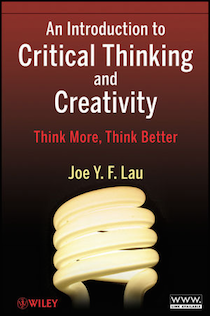 This companion textbook on critical thinking and creativity is written by Dr. Joe Lau, main author of this web site.
Title: An Introduction to Critical Thinking and Creativity: Think More, Think Better.
Published by Wiley in 2011. 272 pages.
Suitable for the general public, university and high school students.
Each chapter contains exercises with suggested solutions at the back of the book.
See the book product page on Amazon and Barnes and Noble.
List of errata - Errors and corrections
You can preview or download the table of contents and a few pages from the first chapter of the book here via box.net.